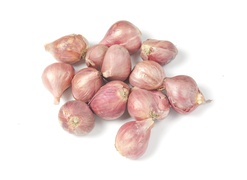 SHALLOTS
This slightly smaller onion is a shining rosy pink and is said to be the best and the best tasting of all types of onion. It has a full, sweet flavor that's a bit similar to garlic.
Keep in mind
There are several varieties of shallot:
Banana shallots are a bit bigger and easier to handle but experts say they don't taste as good.
Grey shallots are stronger tasting and need cooking. Due to their tougher flavor, they're said to be the optimum choice for boeuf bourguignon.
How to cook shallots
Tip: Put small onions in warm water for about 30 minutes and they'll be easier to peel.
Shallots are more tender than ordinary onions. Fry by all means – but not for too long. Because it's a bit more sensitive than ordinary onion, the flavor will gradually be diluted.
Whole in stews: Boeuf bourguignon is a classic example where whole onions come with small explosions of sweet flavors and juiciness.
Whole in the oven: These small onions are perfectly bite-sized on the plate and attractive to look at if handled with care. Try peeling them and baking them whole in the oven.
The classic
Boeuf bourguignon. "Les oignons" are at least as tasty as "le boeuf".