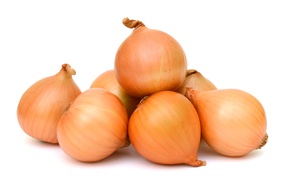 ONION
The ordinary yellow sort you find in the supermarket. The flavor is sweet and good, but can be a bit sharp if you don't cook it. A quick dip in cold water can tone down the flavor a bit.
Keep in mind
Locally grown onions are best. Check the growing season.
The best onions in the world are said to come from New Zealand.
Organic onions tend to be slightly smaller – but lots of people think they taste better. Compare for yourself and draw your own conclusions.
How to cook onion
You can do practically anything – or the basis for anything – with onion. Stews, soups, sauces, etc. This is what you can do to bring out the onion flavor in its own right:
Improve it with sugar: It's the sweetness that makes onions such a useful vegetable, high in flavor. Adding a bit extra boosts the experience even more.
Fry halved: Fry peeled halves of onion golden brown in butter with the cut side down. Add sugar so that the onion caramelizes. Turn the onions over and pour in a splash of vinegar and stock. Bring the liquid to the boil and simmer under a lid until the onions are soft all the way through, basting from time to time. Sprinkle with thyme and serve with pork.
Make onion soup. Fry the onions golden brown – let it take its time – before adding vegetable or chicken stock and blending to create a tasty soup. Don't be stingy with the pepper. Garnish with toasted, rustic bread and grated mature cheese. Melt the cheese and serve.
Pickled onion: Using the same liquid and recipe as used for Scandinavian-style pickled cucumber but replacing thinly sliced cucumber with shredded onion. The liquid makes the onion taste milder but you still want to use a mild yellow onion if you're making this.
Read more about different ways of frying onion.
The classic
French onion soup, see above.