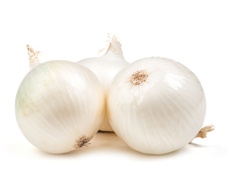 WHITE ONION
One of the mildest types of onions and work well served raw. When cooked, they lose a lot of their mild flavor. Also known as silverskin onion.
Keep in mind
These onions can't be kept for very long.
They mostly come from southern Europe.
How to cook silverskin onions
The mild flavor almost disappears entirely when cooked. Beautifully crispy, silverskin onions work best raw, or ideally pickled.
Because of their mild flavor, some people prefer them finely chopped or thinly sliced to accompany herring or caviar.
This is the onion used in a traditional ceviche recipe, or one of its close cousins in South America. Its mild flavor means it goes very well in all kinds of pickles.
The classic
Ceviche. What would this dish be without crisp, mild but acidic marinated onions?