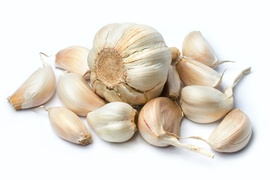 GARLIC
A type of onion with powerfully aromatic white cloves. Cuisines across the world use garlic to raise the richness and flavor of almost any dish.
There are more than over 300 sorts of garlic worldwide and China is the world's biggest exporter.
Keep in mind                       
The strength of the flavor will vary depending on variety, origin and season.
The skin should ideally have elements of red and pink. Feel the bulbs in the shop to make sure that none of the cloves are soft or rotten.
Fresh garlic is fresher and milder in flavor.
How to cook garlic
Garlic is an onion and a flavor and is a basic in many of the world's cuisines. Some tips:
You'll find a wide variety of tricks on the internet but one easy way to peel garlic is to place the broad side of the knife blade over the clove and press. This loosens the papery skin, making it easy to remove.
Even small amounts of garlic can be hard on the stomach (the sensitivity of your guests may vary) and can leave a trace in bodily odors. But if it's cooked, you can use plenty of garlic without unwanted side effects.
Raw garlic should be as finely chopped as possible. Or grated or crushed. A mouthful of a large chunk of raw garlic isn't an exciting taste experience, it's clumsy.
The tops of fresh garlic are mild and taste great, making them good in salads or as a garnish.
Fry with care. Garlic burns more quickly than onion. The sugar content is lower and the flavor quickly turns bitter.
Boiled garlic turns to mush. This means that how you add it to a casserole is less important.
Garlic as main ingredient:
Garlic soup, a classic money-saving dish. The trick is to fry enough for the flavors and the soft consistency to emerge without burning it. And that the soft garlic brings the oil and water together. Dilute with a good stock and top with bread and cheese, melted in the oven.
Garlic chicken. In the oven or in a casserole. Don't be afraid of adding several cloves of garlic per person. It will mellow with cooking, leaving only the good, full flavor.
The classic
Spanish garlic soup, "sopa de ajo", with jamon serrano, bread, egg and a pinch of sweet paprika.