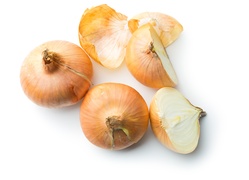 PEARL ONIONS
A slightly flatter, medium-mild, golden, decorative little onion for stews or the frying pan.
Keep in mind
This attractive little onion needs a lot of patience when you're peeling it. But the result is whole, sweet, delicious little onions in your dish.
They taste best in autumn and winter, which is when you'll usually find them in the shops.
Larger versions of this onion are popular in the Mediterranean.
How to cook pearl onions
Tip: Put small onions in warm water for about 30 minutes and they'll be easier to peel.
Fry pearl onions slowly in butter and serve with meat, game, etc. It isn't any more difficult than that. Add a bit of sugar if you think you need it.
Read more about frying onions.
Put these onions on skewers for kebabs. Use two to stop them twisting round.
Pearl onions are a classic in rich stews. Depending slightly on what you are cooking and for how long, add whole, peeled, onions a bit later so that they are soft and juicy without falling apart.
Pickled onions Pearl onions are also known as pickling onions. Bring water to the boil with the spicy flavors you want. Boil the onions for about 5 minutes. Turn off the heat and leave to cool in the liquid. Put into jars and cool to use later. A dash of vinegar is recommended.
The classic
Coq au vin. It's the great-tasting bit deep inside the onion that you want to get at.