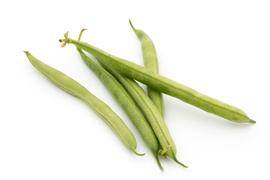 Green beans
Green beans have long, firm pods and are harvested before reaching full maturity when the pods are still intact. Older varieties have a stringy texture, hence the name "string beans".
Also known as "french bean" and "common bean". The French name "haricots verts" is commonly used for extra small and tender varieties.
Wax beans are essentially the same plant, but the pods have a pale yellow color.
Choosing green beans
The pods are eaten whole. The color is deep green and the texture of the outer layers can be quite tough – but delicious.
Green beans are not as pretty as, for example, green peas and you might want to consider how they will be presented on the plate. Put some perfect specimens aside for presentation.
Wax beans have a more "buttery" flavor and texture than their green relatives.
Storing green beans
Store green beans in a plastic bag to keep them humid – or a paper bag, as long as they are not allowed to dry out. They will keep for up to a week in the fridge.
Lightly parboiled green beans can be deep frozen.
Prepare green beans
The pulpy pods have small seeds and are eaten whole, but rinse and trim them before cooking and serving.
Limp beans can be invigorated with the help of ice water.
Cooking green beans
Green beans benefit from cooking, but a general rule is to be careful not to cook them soggy. Without their crunch and chewiness they lose their appeal.
Haricots verts are more tender and can be eaten raw, or with minimal preparation.
The flavor, which can be very mild, is nutty. Don't be afraid to boost flavors with salt, fat, vinegar, black pepper, etc.
Soften green beans by boiling them in salt water – but not until they are actually soft. It takes only minutes.
Green beans – as well as haricots verts, wax beans, etc – can be cooked to perfection at high temperatures for a short time in a wok or a sauteuse. Large pods might need to be lightly boiled beforehand – but usually not.
Don't complicate things. Green beans are pretty just the way they are and can be boiled, steamed, fried, and roasted, and go beautifully with meat, fish, and other vegetables.
Green beans can even be grilled, resulting in wonderful smoky, seared flavors.
Tender haricots verts and wax beans make any salad more fulfilling. Or add steamed green beans, making it a warm salad…
Boiled green beans (and other vegetables) with Gado Gado (Indonesian peanut sauce) make a great vegetarian dish.
Different kinds of (fresh) beans are often interchangeable in recipes.
Serve green beans
In the professional kitchen green beans are treasured because they are an easy ingredient to handle, are appreciated by most customers, and look good in a dish.
A little butter and sea salt crystals bring out the mild, nutty flavors.
The classic
Green beans (haricots verts...) are a star ingredient – lightly parboiled – in a Salad Niçoise.