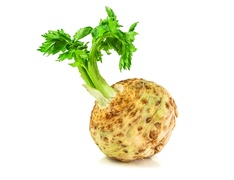 CELERIAC
A few years ago celeriac went from being a boring knobbly vegetable often confused with swede to being a trend ingredient on restaurant menus. Celeriac is now often seen as an obvious veggie alternative to meat and fish. It has a flavor that's deep and fresh at the same time.
Keep in mind
Grated, fresh celeriac helps the flavor and juiciness in burgers and meatballs.
How to cook celeriac
Think of celeriac as a flavor enhancer. Small cubes of celeriac add character to bolognese sauce, tomato sauce and soups. However, there's a risk that the flavor will take over, so don't use the whole thing unless you're making a pure celeriac soup.
Make celeriac and potato purée: Boil small pieces of celeriac with potato and purée in a food processor. Don't be stingy with the butter.
If you find whole, organic celeriac, bake it in the oven as it is. It takes a bit of time but it's worth every minute. Here's how:
Scrub the celeriac with a vegetable brush.
Roast in the oven at 250°C until mahogany brown, about 30 minutes.
Bake celeriac at 150°C for 1-2 hours depending on the size and the oven, until it feels soft when tested with a skewer.
Tip: Blacken the skin with a blow torch before baking in the oven. It looks good and adds a smoky flavor.
Bake in the oven: Slice celeriac into pieces and oven bake with other root vegetables at approximately 190°C until soft. A little oil and sea salt are all you need to go with it, but thyme or savory are good too.
Make a root vegetable soup: Mix diced celeriac into lentil soup, peasant vegetable soup, smooth root vegetable soup and casseroles. Or boil celeriac on its own with onion and a good stock until it's completely soft and can be processed into a smooth celeriac soup. Home-made croutons with garlic are good too.
Roast the peel: Scrub the celeriac well and slice off the peel. Put it in the oven with oil and sea salt. Eat as a snack, maybe with some sour cream and whitefish roe. Or serve it as a side dish.
The classic
Oven-baked celeriac is well on its way to becoming a new classic.