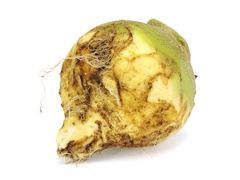 SWEDE
Not restricted to Sweden, this root vegetable has spread across the world. The inside is white, yellow or orange and it's often mashed. But there's more to it than that.
The flavor is a bit like carrot with elements of cabbage. Raw, it works very well with orange/lemon, chili and ginger. Grate coarsely or slice into thin sticks for a little marinated salad.
Keep in mind
Swede can be tricky to deal with. If you've got hold of a large swede, use your strongest knife and your heaviest chopping board.
It can be very sweet.
How to cook swede
Swede can often take over the role of potato, while adding a little more sweetness to the meal.
Make a root vegetable mash: Boil pieces of peeled swede, carrot and potato in a little salted water and mash. Don't be stingy with the butter.
Make a swede purée: Boil pieces of peeled swede until completely soft. Drain, leave to cool and run through a food processor with oil, salt, cider vinegar and maybe a little harissa.
Baked swede: Peel the swede and cut into small, equally sized pieces. Place on a baking tray with a little oil, thyme and sea salt. Bake in the oven at approximately 190°C until they are soft when you test them with a skewer.
Make soup: Mix diced swede into lentil soup, peasant vegetable soup, smooth root vegetable soup and casseroles.
Preserve your swedes! Add salt and spices. Press the vegetable down so the salt goes in. Pack into a glass jar (it's important that there aren't any air bubbles left) and store at room temperature for two weeks. After that, store them in the fridge. They'll be best after a month but last for up to a year.
Pickle swede with chili and ginger, or star anise and Szechuan pepper. Cook chunks of swede until they have the right amount of bite, before putting them in a 1-2-3 solution in a properly cleaned glass jar. Put the jar in a cool place until the next dinner that needs a flavor boost.
The classic
Mashed root vegetables.