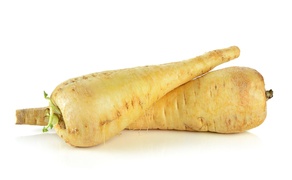 PARSNIPS
Parsnips look like a white, slightly yellowish carrot and the two vegetables also make perfect partners in terms of flavor. Parsnip has a mushier consistency though.
Keep in mind
Unlike many root vegetables, parsnips gain nothing by being served raw.
Parsnip is quite a sweet root vegetable, especially when baked in the oven. A little lemon or feta cheese will boost the flavor.
How to cook parsnips
The soft texture comes into its own in everything from soups to mash and when topped with cheese.
Parsnip can be a tasty element in meat or fish stews, for example, a perfect fond, which means base, bringing out the umami and other flavors.
Deep fried thin slices of parsnip make great crisps. They look best and taste best too if you mix them with beetrootand carrot crisps.
Baked parsnip goes a beautiful golden color, just make sure it's cooked all the way through. Parsnip al dente will be boringly chewy and doesn't taste good at all.
Tip: Blacken the skin with a blow torch before baking in the oven. It looks good and adds a smoky flavor.
Make parsnip purée: Cook pieces of parsnip until completely soft and run through a food processor with olive oil, cider vinegar, salt and maybe a spoonful of harissa.
Make a root vegetable soup: Mix diced parsnip into lentil soup, peasant vegetable soup, smooth root vegetable soup and casseroles. Or boil parsnip on its own with onion and a good stock until it's completely soft and can be processed into a smooth parsnip soup.
Fry sliced parsnip in olive oil so it gains color. Pour freshly squeezed orange juice over the top and braise the parsnip until done. Salt and enjoy.
7 other ways of cooking parsnips
The classic
As a background ingredient in a chunky stew.