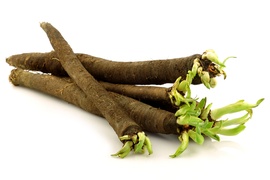 BLACK SALSIFY
The soil-colored skin hides white sticks, sometimes known as "poor man's asparagus" due to their excellent flavor. Black salsify is related to the dandelion (whose leaves can also make a good spring salad) and appears in the shops towards late autumn.
Keep in mind
Rinse peeled black salsify well and put them straight into a cold water bath with a few drops of lemon to stop them getting discolored.
How to cook black salsify
Black salsify is really cooked the same way as asparagus and can be served as a starter or a side dish. You can also cook them in a casserole or slice, boil quickly and add the pieces to a pasta sauce with prawns, for example.
Cook the peeled salsify in lightly salted water. Drain and serve with lemon, butter and a little sea salt. Like asparagus, black salsify also works excellently with olive oil, parmesan and pine nuts.
Boil the salsify but not completely, and top with parmesan and maybe some cream before baking in the oven. Black pepper goes well.
Cook in cream and season with Dijon mustard.
See salsify as any other root vegetable and add to a stew.
Gremolata – lemon zest, garlic and parsley – is very good with black salsify. Boil the salsify, drizzle with oil and sprinkle the mixture over the top.
The classic
Black salsify au gratin