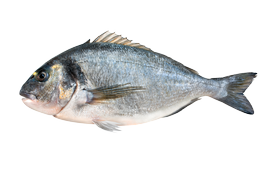 SEA BREAM
Also known as gilt-head bream. If you've travelled around the Mediterranean and ordered grilled fish in a restaurant, you'll recognize this fish as "Dorada" or "Dorade".
A long and flattened fish with a high body shape, beautiful silvery colors and a snub nose. It usually has a dark mark behind the top of the gills. It can weigh up to 3 kg but tends to be seen at the fishmonger portion-sized.
Fish facts
Farmed in large quantities in the Mediterranean, especially along the Greek coast.
How to cook sea bream/dorada
This fish is related to perch. Why not cook it like perch? Remember that the flesh quickly dries out quickly if overcooked.
It's a beautiful looking fish that works well cooked whole in the oven or wrapped in foil. Or baste it with a little olive oil, salt and pepper and cook it to mediterranean perfection on a sizzling hot griddle. A few drops of lemon (sour and fresh) is all you need to take the charred flavors (umami and smoky bitterness) to heaven.
The robust spine and the large bones make it easy to debone the cooked fish at the table. Aim for 50°C and place the probe of the thermometer against the spine. If it still has a pinkish color when the meat is white you have nailed it.
Finely chop the spices and other ingredients in the parcel so that they are done as quickly as the fish.
The classic
On the grill in a parcel of foil with the Mediterranean flavors and ingredients of your choice.
Conservation status:
Green.