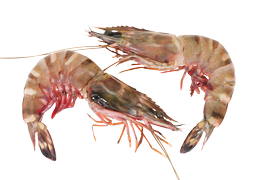 TIGER PRAWNS
Also known as scampi (just the tails), gambas (the whole prawn), gambones, tropical prawn, tiger shrimp, etc. Extra-large prawns are called giant or jumbo prawns.
Fish facts
One of the tastiest and easiest to cook, but avoid it at the moment due to negative environmental impact, see below. A large northern shrimp known as amaebi could be an alternative.
How to cook tiger prawns
For a good result the prawns need to be raw. Precooked tiger prawns go rubbery if you fry or boil them.
To get the right color and flavor, make sure the prawns are dry before frying them in a hot pan. Ideally a griddle.
Large prawns for the grill are good if they are marinated in spices and oil for a while beforehand.
If you're putting them in soup, put them in last. They need to simmer, max.
The classic
Cooked in salted water, grilled whole, grilled on skewers, peeled and stir fried, fried with coarse sea salt, fried in olive oil with whole cloves of garlic, coated and deep fried, coated in coconut flakes, as burgers, in a piquant spicy soup, in an updated prawn cocktail, in pasta sauce with tomatoes and chili, in an Asian spicy salad, etc.
Conservation status:
Farmed giant prawns are unfortunately one of the greatest environmental disasters of the seas. The farming methods include systematic use of antibiotics, chemicals, gas emissions and devastation of mangrove swamps. They are generally on the red list but there are now MSC-labelled giant prawns that you can buy with a good conscience. Hopefully there will be more.