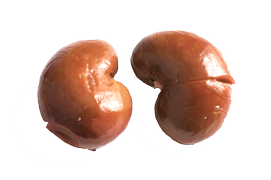 LAMB KIDNEY
A delicacy that tastes wonderful when barbequed and is at its best when combined with intensive flavors.
Keep in mind
Lamb kidneys are appetizingly small and beautiful on the plate. You can treat them as accompaniment to toher lamb cuts.
How to cook lamb kidney
Fry in butter and burn off with brandy and Madeira. Onion, bacon, mustard, capers and black pepper are also accessories that add the right flavors.
Not only the tastes should be balanced. When cooking and presenting organ meats it is more important than ever to create a dish with colorful components with different textures and mouth-feel.
The classic
Fried lamb kidneys Provencale with oven baked potatoes, whole grilled garlic and baked plum tomatoes.