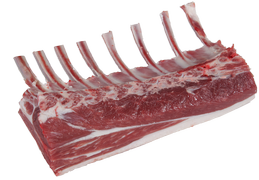 LAMB RACKS
Are grilled whole or as chops and consists of the front part of the rack. The tender, fine meat easily gets dry and should be pink inside.
Keep in mind
One piece of lamb rack is just enough for two people.
How to cook lamb racks
A splash of oil, some pepper, some salt and a quick, but intense round in the pan or on the grill – nothing more is needed. Or grill the whole piece in the oven to an internal temperature of 54° centigrade.
Use a thermometer and make sure that the meat is not cooked dry. Keep in mind that the internal temperature keeps rising even after you have removed the meat from the heat.
Try to replace the potatoes as accessory with, for example, polenta.
The classic
With polenta, or roasted vegetables, or a fennel gratin, or black salsify gratin.