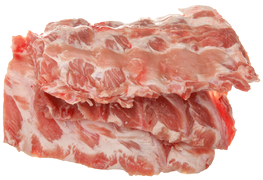 BABY BACK RIBS
A cut that's consists of the backbones left over when cutting out a boneless cutlet row. "Baby" refers to the size of the ribs, not the age of the animal.
Keep in mind
This cut is often available as a pre-marinated and/or pre-grilled, but doing the job yourself will get a much tastier result.
How to cook baby back ribs
As the meat on the baby back ribs is sometimes less tender than other, similar pieces, it is a good idea to boil the entire piece in stock before grilling. Taste-wise, you can generally treat them as spare ribs.
The classic
Slowly grilled – not pre-boiled – in smoke and heat from real American hickory and rounded off with a sweet, sour, salty glaze.