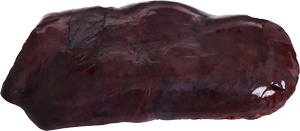 VEAL LIVER
Has a milder taste than beef liver. The lighter it is, the more tender and milder the taste. Fry it carefully to get a pink center, otherwise it becomes rubbery.
Keep in mind
For an appetizing result, be careful to remove membranes and tendons. You should more or less "peel" the liver.
How to cook veal liver
Veal liver has milder flavors than liver from a grown animal. It is delicious when fried in thin slices – but the surface must be properly seared to give intense flavors in contrast to the pink, mild and tender center.
Veal liver is a delicacy prepared together with the likes of bacon, onion, capers, parsley and apple.
Veal liver can also be made into a stew.
The classic
Veal liver Anglaise, turned in flour, fried in butter and served with the falavorful accessories mentioned above.