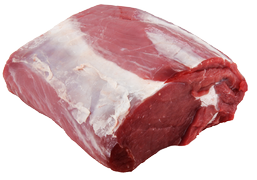 VEAL RIBEYE
The finest, most tender part of the front of the veal. It is marbled and excellent to grill or fry, preferably with the bone included. Do not overcook as it quickly goes dry.
Keep in mind
Veal is lean meat. Look for marbling.
How to cook veal ribeye
This raw material deserves to be prepared simply and carefully. This cut can be grilled and fried just like ribeye from beef, but the fat content is low and the meat must not be overcooked to a dry, grainy, and anything but succulent texture.
The internal temperature should not be allowed to climb further than 56°C.
The classic
Whole roasted in the oven or cooked in slices in the pan.