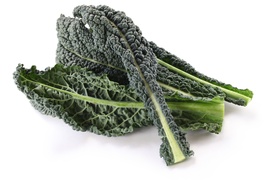 BLACK KALE 
Black kale is also known as cavalo nero, which means black kale in Italian. It grows in long leaves like kale. However, black kale is darker, more of a blueish green color and softer than green kale. Both green kale and black kale are better if they've survived the first frosts.
This variety belongs in a wintry minestrone or ribollita, a rustic Tuscan peasant soup. Or fry it with garlic, in a hot spaghetti sauce with pecorino.
Keep in mind
The veins in the middle of the leaves can easily be tough and chewy so remove them from the start. But don't throw them away. Slice them thinly to form a crisp sprinkle topping for decoration.
How to cook black kale
Black kale needs to be cooked to make the most of its flavor and texture. It goes well in rustic soups or fried with garlic as a vegetable side dish. Pine nuts and parmesan go well with it.
Make black kale crisps: Cut the leaves away from the veins and tear into smaller pieces. Mix with olive oil and sea salt. Spread on a baking sheet covered with baking paper and cook until crisp at 200°C for approximately 10 minutes.
Black kale fried with garlic (and maybe a bit of chili) is a perfect accompaniment or as part of a warm salad. You can also mix it all together to a pasta sauce and grate pecorino or parmesan over the top.
The classic
An Italian peasant soup with spicy sausage, beans and black kale