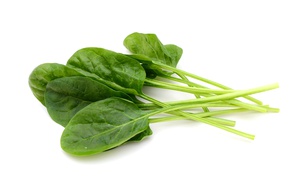 SPINACH
Early, crisp spinach that appears in spring is excellent in salads. The spinach that arrives in the winter is much coarser and needs to be cooked before eating.
Tender spinach is very delicate and must be eaten as fresh as humanly possible. Coarser spinach that turns up later in the season often goes straight to the deep freeze after harvesting.
Keep in mind
Spinach often comes in bags these days. If you're careful about resealing opened bags, it will keep its bounce for much longer.
Spinach grown in fields needs to be cleaned carefully. Dry the leaves properly afterwards so they don't turn to mush.
How to cook spinach
Look at its appearance first. Tender leaves make a good salad and will disappear almost completely if you heat them. Coarser leaves aren't great to chew raw but have much more character. Blanch, steam, braise or sauté with garlic, for example. Spinach is also good in a quiche with feta or goat's cheese, or in a frittata.
Blanching spinach
Blanching is ideal for vegetables with a short cooking time and is an excellent method for spinach. It's a method that enables you to cook the attractive leaves without losing out on flavor, color or nutrients. Here's how:
Dip them into already boiling lightly salted water.
Cook for about 1 minute.
Pick them out – use a draining spoon – and dip immediately in cold water.
Drain and serve.
Steaming spinach: Cooking in steam is a milder method for cooking vegetables that drowning them in boiling water. This method gives you tender leaves of spinach that retain their flavor, colors and nutrients. There are special ovens for steaming. You can also invent your own using a big saucepan with a lid, a bit of boiling water in the bottom and a colander. Spinach should steam for approximately 3 minutes. Drain before serving.
Braising spinach: Brown in butter and/or oil. This cooking method draws out the flavors. Add a little liquid – for example water, stock, wine, beer – and reduce until the spinach is done. It needs to be quick, you don't want to cook it to a pulp.
Creamed spinach tastes good and is easy to make: Bring cream to the boil until it's a bit syrupy. Cook the spinach leaves in the cream for 3-4 minutes. Grate in a little nutmeg, add pepper and salt and serve.
Add spinach to a risotto after half the cooking time.
Sauté spinach with garlic and eat as a side dish or fold into freshly cooked pasta and grate parmesan or pecorino over the top. A spoonful of cream also goes well here.
Fry spinach with chili and garlic and stir into couscous.
Add bits of the leaves to a vegetable or lentil soup towards the end of the cooking time with root vegetables and onion.
Make a frittata: Fry the onion and spinach until the liquid has been absorbed, add sliced boiled potatoes to the pan and pour over a mixture of egg, milk and parmesan and leave to set before placing the whole pan in the oven at 160°C for about 30 minutes.
The classic
Spinach and feta quiche.