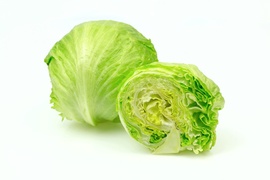 ICEBERG LETTUCE
For many people, iceberg is what they think of when they think of lettuce; a round head of lettuce with strong leaves in shifting lighter shades of green. Crisp and juicy with quite a strong flavor. Iceberg lettuce should glisten. A fresh one should last for as much as a week.
Keep in mind
Iceberg lettuce won't discolor if you cut it with a knife.
Keep the lettuce moist with a damp cloth, for example. If it starts to wilt, put it in ice cold water for an hour or two.
Iceberg lettuce can be used as a substitute for any crisp lettuce.
How to use iceberg lettuce
Eating it raw tastes good, but thinking on new lines can be fun. The large, stable leaves can be used instead of taco shells or even burger buns.
Shred the lettuce thinly into a crisp tangle. Mix in chopped fresh herbs such as mint, flat leaf parsley and basil, and a little lemon zest. Add drops of oil and sprinkle with flakes of sea salt.
You can boil and fry iceberg lettuce too. Use it in Asian soups as a substitute for pak choi.
Quickly boiled iceberg lettuce in chunks is good with bacon, melted butter and a squeeze of lemon.
Slice the lettuce into rough chunks and fry them with other vegetables as a side dish.