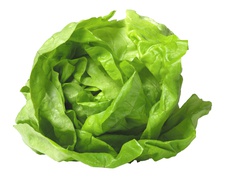 ROUND LETTUCE
This lettuce has a deep green color. The head is round, as its name suggests, with leaves that are crispy in the middle but becoming softer – and even deeper in color – further out. The largest outer leaves can be a bit leathery with larger lettuces.
Keep in mind
Round lettuce grown in fields can be a bit dirty. Give it a proper cold bath and carefully clean every leaf. Dry off carefully with a cloth.
How to cook round lettuce
Round lettuce is best raw. Tear the outer leaves into pieces with your fingers. The smaller leaves in the middle can go into your salad whole.
The inner leaves can be used as small bowls to put marinated prawns or salmon mousse in, as finger food.