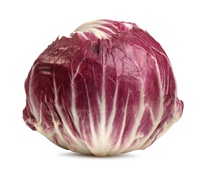 RADICCHIO
The head of radicchio is often quite small and has crispy wine-red leaves with white veins. Red lettuces take on a deeper redder color if they experience cold nights.
The head of the lettuce should be shiny, not matt. The strong and bitter taste gives away the fact that radicchio is related to endive. Fresh radicchio keeps for several days.
Keep in mind
Mix with other types of lettuce to get balanced flavors and a good composition in your salad bowl.
Keep the lettuce moist with a damp cloth, for example. If it starts to wilt, put it in ice cold water for an hour or two.
How to use radicchio
Radicchio makes an attractive addition to a green salad, ideally shredded or divided, not into too small pieces. Braised, grilled, fried or stir fried radicchio also tastes good.
Braising radicchio: Brown in butter and/or oil. This cooking method draws out the flavors. Add a little liquid – e.g. water, stock, wine, beer – and add with balsamic vinegar and rosemary for flavor.
Grilling radicchio: Remove the outer leaves. Cut the head in half lengthwise and rub with olive oil. Grill for a couple of minutes each side. Make a goat's cheese or gruyère dip to serve with it.
Frying radicchio: Save the outer leaves for a salad. Cut the head into chunks and fry them quickly at a high temperature. Drizzle with a good dressing and enjoy.
Stir frying radicchio: Cut the lettuce into smaller pieces and put in the wok when your stir fry is nearly ready.
Use raw radicchio to add flavor and color to a pasta sauce with salmon, cream and lemon.