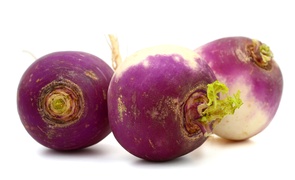 TURNIPS
Small round turnips are one of the first vegetables to be ready in the spring. The texture is a bit like radishes but the flavor is more like beetroot.
Keep in mind
The turnips you buy will often be properly washed and scrubbed. There's no need to peel them. Just rinse them before cooking. That way they'll keep more of their flavor.
How to cook turnips
Enjoy turnips just boiled, with plenty of butter and sea salt.
Thinly slice the turnip and serve as a side dish, e.g. with lemon, basil and olive oil. And a little salt and black pepper too.
Cook turnips in chunks or slices: Either roast them in the oven or fry on the hob until golden brown. Season with thyme and enjoy as a side dish.
Tip: Blacken the skin with a blow torch before baking whole in the oven. It looks good and adds a smoky flavor.