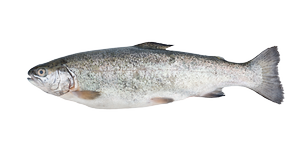 SEA TROUT
Sea trout is a member of the salmon family and – just like salmon – hatches and matures in freshwater before migrating to the sea. It looks similar to salmon but is usually smaller with black and red spots on the side.
Fish facts
This game fish is mainly caught by sports fishermen with rod and net.
How to cook sea trout
Sea trout is best cooked and flavored in the same way as salmon and trout. Because the fish lives in the wild, the flesh is leaner and there may be wide variations in flavor.
This fish looks beautiful cooked whole in the oven or on the grill. Anything with spinach goes well with it.
The classic
Stuffed with herbs and on the grill, or over a fire in a hand-held grill.
Conservation status:
No information available.