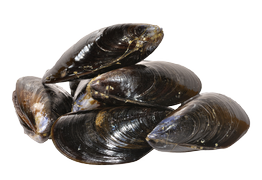 BLUE MUSSELS
One of few shellfish that are affordable. Mussels are a value-for-money meal but are also excellent as a garnish and flavor enhancer in a wide variety of fish dishes.
Fish facts
Mussels are bivalves, a kind of mollusk.
To avoid poor flavor and a risk of food poisoning, blue mussels must be alive when they are boiled. The shells are closed when the mussels are alive. If it doesn't shut when you tap it, throw that one away. Once the mussels have boiled, they should be open, however. Chuck out the ones that haven't opened.
How to cook mussels
Farmed blue mussels hang on ropes and supports under the water and tend not to take in large amounts of sand. They don't usually need to undergo a cleaning bath in cold salt water in the same way as cockles and clams. The risk of sand is higher with wild-caught mussels.
Brush the mussels clean before cooking if necessary.
Because the mussels produce their own liquid, all you need to add is a little wine or beer or fish stock to your pan when you're making soup. Don't forget that tasty, fresh bread is an important part of your guests' mussel soup experience.
Cooked mussels can be frozen. Freeze any extra cooking liquid separately.
Blue mussels (or other shellfish) in their shells, topped with melted grated cheese makes a simple starter or snack. It's easy and tastes as good as it sounds. You need to cook the mussels first, of course. Season – for example – with garlic, onion, parsley, breadcrumbs and a mature cheese.
Use blue mussels to add flavor to your fish and shellfish dishes.
The classic
Brown some chopped onion, garlic and chopped parsley – you can also add other green herbs, chili, bacon, etc, – in the bottom of a large saucepan. Pour in the cleaned mussels and a glass of white wine and increase the temperature. Once all the mussels have opened, they are done. Season with salt – and add cream if you like. Serve with bread or pommes frites…
Conservation status:
Farmed, organic blue mussels have green status. Harvesting (but not trawling for) blue mussels even has a positive effect on eutrophication. Tuck in!