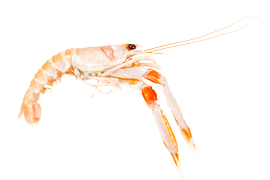 LANGOUSTINE
This long, thin animal with ten legs is closely related to the lobster. Also known as Norway lobster or the Dublin Bay prawn. It is much smaller and a red-yellow-pink color. The claws are elongated.
Fish facts
Langoustines are sometimes compared with freshwater crayfish but in terms of flavor they are very similar to lobster. Langoustines are found all year round, unlike lobster.
How to cook langoustines
Cook live langoustines in "sea water" – 1.5 tbsp salt/liter water – and with dill for flavor if desired. The cooked langoustine should be nicely salty and chewy.
Sort the langoustines into large and small sizes and calculate the time from when the water has come back to the boil. Smaller ones should boil for 3 minutes, larger for about 5 minutes.
Langoustines are easily overcooked and doughy/floury in consistency. A langoustine that has cooked once shouldn't be boiled again.
Raw, large langoustines – sliced lengthwise down the middle – can go straight onto the grill. Remove the stomach and intestines before grilling. Start with the meat side and give it high direct heat for a short time.
The shells can be used to make an excellent stock before throwing them out.
The classic
Grilled langoustines. Brush with a mixture of (olive) oil, garlic, chopped parsley, salt and pepper (or a pinch of piri-piri). Also baste during grilling. Garnish with lemon.
Conservation status:
MSC-labelled, organic and pot-caught langoustine are green. Otherwise yellow.