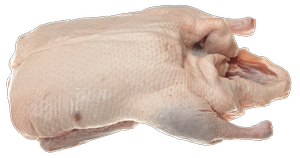 DUCK
A fatty bird with an abundance of taste. It has a 'party special' appeal that chicken lacks – but it is easy to get the cooking wrong.
Keep in mind
The meat is rich, even on a perfectly cooked duck. Cut it in thin slices before serving and the meat will be perceived as more delicious and tender.
How to cook duck
To increase your chances for a tasty, crispy skin, the duck should be completely dry when you start cooking. Preferably let it stay uncovered on a grid in the refrigerator to make the skin dry out a little.
For the right, crispy result the fat has to met away during cooking, for example by having the duck on a spit or on a grill. Keep the tasty fat for frying and preserving other foods.
The inner temperature at the thickest section should not rise above 60° centigrade. Leave the duck to rest for a while so that the heat has time to cook the bones.
The classic
Beijing duck – a dish that requires several days of preparation and correct handling. It's not for beginners. The skin is separated from the body and is treated with molasses several days in advance. The fat pours off during cooking. The skin and the meat are traditionally served as small pancakes with spring onion and a sweet sauce.