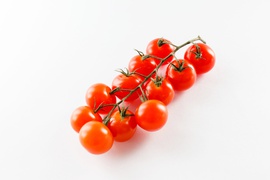 CHERRY TOMATOES
A small-sized tomato that weighs about 10 grams, in contrast to a common tomato that weighs about 100 grams. Also known as grape tomatoes.
Keep in mind
Cherry tomatoes – if ripe and of high quality – will be sweeter than common, larger tomatoes.
The skin is thin and eating the tomato whole should be an elastic – followed by juicy and tasty – experience.
There are many varieties and they can also be yellow or orange. And rounded, pointed, elongated, bulbous, etc…
How to cook cherry tomatoes
Use them whole or halved in a salad or pasta. They are decorative and appetizing just the way they are.
Bake them whole in the oven and serve with meat, fish, and other oven-baked greens.
Add a fistful of cherry tomatoes at the end when concocting a rustic pasta consisting of penne boiled al dente, Italian sausages and/or mushrooms fried in olive oil and garlic.
Grilled meat + grilled tomatoes = true.
You can cook a fine and flavorful tomato sauce using sweet cherry tomatoes. A problem is that it can contain large amounts of small fragments of peel.
The classic
In a bowl on the table, just as they are, for those who don't want salad.